Holland Rentals
Below are our current listings for Holland rentals. As you'll see, we feature a very nice mixture of full-size homes, cabins and resorts on or near the Lake Michigan shore, all in the Holland, Michigan area. Enjoy!


---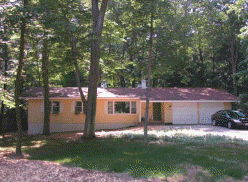 Holland Rental #1:
Lakeshore Drive Rental
Cottage Address: 2924 Lakeshore Drive, Holland, MI
Owner: Todd Fouts
Phone: 269-207-7699
Our cottage is located right on the famous Holland bike paths, connecting you to Tunnel Park (1 mile) and from there to the State Park (2 miles. We provide the bikes! Just 150 yards from the cottage and a 5 minute walk is the James Street Beach. This is a quiet neighborhood beach access to Lake Michigan.
Our cottage has 3 bedrooms sleeps 7-8 and linens are provided. We also provide a gas grill, A/C, cable plus VCR, deck, and new appliances in the kitchen. $995/week
No smoking, winter rental available, waterfront/water access.

---
Holland Rental #2:
All Together Now
Cottage Address: 17227 James St, Holland, MI
Owner: Wayne Shabaz
Phone: 616-786-4500
website: http://users.egl.net/nshabaz/
Quietly situated 500 feet from Lake Michigan, this spacious Holland rental home is ideal for indoor/outdoor entertaining, vacations and family reunions. Five bedrooms, three baths, open floor plan, bed/bath linens and a well-equipped kitchen comfortably accommodate 15 people.
Walk the beach, cycle miles of bike paths, unwind on the deck, and make s'mores over the fire pit. There's a pool table, cable TV, VCR, DVD player, stereo, CD player and wireless high speed internet access. www.egl.net/users/nshabaz for more pictures.
June-August $2,250-$2500/wk. September-May weekend to monthly rental available.
No smoking, no pets, winter rental available, waterfront/water access.


Contact All Together Now Today!


---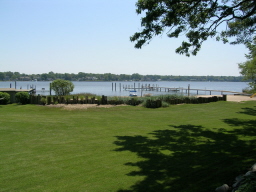 Holland Rental #3:
Rosewood Pointe
Cottage Address: 806 North Shore Drive, Holland, MI 49424
Owner: Brent Kleinheksel
Phone: 612-501-2548
Website: www.rosewoodpointe.com
Rosewood Pointe is located on the north side of beautiful Lake Macatawa in Holland, Michigan. Minutes from Lake Michigan, this Holland rentals resort is nestled among stately oaks and fragrant pines.The resort consists of four (4) large cottages (sleep 4-7), the Retreat House (sleeps 25-30), the Waikato House (sleeps 6-10) and the two story, lakefront, Kiwi House (sleeps 9-11), which all rest on a gentle rise overlooking a private, sandy beach. Rosewood Pointe can accommodate groups as large as 65 and as small as one!
No Pets, No Smoking, Winter Rental available, Waterfront/Water Access


Contact RoseWood Pointe Today!

Or for more information visit RoseWoodPointe.com!


---

Holland Rental #4:
Central Avenue Cottage
Cottage Address 2446 Central Ave., Holland, MI 49424
Owner: John and Mary Mulder
Year-round Holland rental house is located in beautiful Idlewood Beach Association. Two miles north of the Holland State Park on Lake Michigan. Vacant lots behind, in front, and on west side give plenty of privacy. Beach access one short block away. Three bedrooms, sleeps 8, 2 baths, totally equipped with dishwasher, washer/drier, microwave, coffee maker, toaster, blender, cable TV, and telephone. Central A/C. Beautiful front and backyards. Benches and stairs provide picturesque views of Michigan shoreline and Holland lighthouse. Tunnel Park within walking distance. Bike paths readily accessible. Must provide linens and beach equipment.
Available July 23-August 27. Check in Saturday 3 p.m.; check out Saturday 11 a.m.; Deposit ½ of weekly rate. Balance due 45 days prior to arrival. Rate: $1,600/week, July and August. Pets okay. Pictures available by email.
ALSO AVAILABLE FOR YEARLY RENTAL: Late August-June. $1100 per month.

---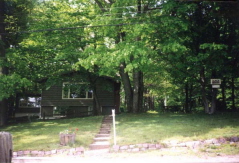 Holland Rental #5:
Kozy Knook
Cottage Address: 6699 Edwards, Castle Park, MI 49423
Owner: Ruth Allison
Phone: 630-772-7414
Website: www.castlepark.mvdavis.com
Nestled in the woods, away from the traffic but just a short walk to the Lake Michigan, you'll find our three bedroom Holland rental cottage. We call it Kozy Knook. It has a spacious dining room that overlooks the meadow. In the summer it is a tennis mecca, boasting eight hartrue tennis courts. There is also a castle (that is now a library, entertainment center), an ampitheatre, pool, and dance dune. We're looking only for people who will meticulously care for our cottage- please call 630-772-7414.
No Pets, No Smoking, Winter Rental


---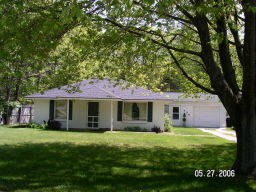 Holland Rental #6:
Around-the-Corner Cottage
Cottage Address: 434 South Lakeshore Drive
Owner: Dan and Linda Dykert
Phone: 616-786-0199
You are invited - To the Around-the-Corner Holland rental cottage located in the heart of summer fun! This cheerfully decorated furnished home is on the bike path (so we provide a few bicycles!) for easy public beach access to both Holland State Park and Tunnel Park, and less than a mile from a boat launch.
There's a one car garage and abundant extra parking. We offer 2 bedrooms (sleeping 6), one with a queen bed, and one with 2 sets of bunks, a full bath, a fully stocked kitchen with stove, refrigerator, microwave, convection toaster oven and tiled countertops. The cozy dining area and bright living room have wood laminate flooring. There's a spacious breezeway for morning coffee, and a separate utility room with washer and dryer for easy living. The backyard is adjacent to a wooded section of the back of the state park, providing a private setting perfect for a picnic on the patio (gas grille supplied) or an evening campfire in the fire pit. Window air conditioning and TV/VCR make for inside comfort. No smoking inside.
Weekly rate: $700; deposit of 50% required with balance and cleaning deposit of $100 due 30 days prior to arrival. Discount for multiple week rental may be available; winter rate is monthly.
No Pets, No Smoking, Winter Rental, Waterfront/Water Access


Contact Around The Corner Today!


---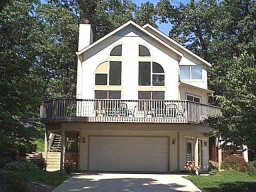 Holland Rental #7:
Summer Place Resort
Cottage Address: We have 8 properties in Holland to fit your needs!
Owner: Robert Johnson
Phone: 616-399-3577
Website: www.summerplaceresort.com
Vacation Resort Homes (June through August) Located in Holland Michigan, Summer Place Resort Properties provides furnished resort homes and cottages for your vacation comfort and enjoyment. Ideally located along Lake Macatawa one half mile from Lake Michigan. All homes are upscale, super clean with all the conveniences of home. Miles of sandy beaches and things to do. Summer season runs June through Aug. We're 27 miles west of Grand Rapids, 15 miles north of Saugatuck, 22 miles south of Grand Haven. Sun and fun all summer long. Check us out.
If you're planning to visit the Holland area this summer consider one of the eight summer homes Summer Place Resort Properties has to offer. Though all units are not directly on the water, most have lake views, and all units do have lake access with a sandy beach. I assure you the condition and accommodations of each unit will pleasantly surprise you. All units have been updated, complete with newer furnishings, thoroughly cleaned, and ready for your vacation enjoyment. If you have ever had a rental that was not up to your expectations, consider Summer Place. We are committed to making you feel comfortable and providing a relaxed feeling with all the conveniences of home.
At this time, many weeks are still available for your enjoyment. The last two weeks of July and the first two weeks of August have been very popular in the past and book very quickly! Rental weeks run from Saturday to Saturday, with check-in at 3:00 PM and check-out at 10:00 AM. Please call us at (616)399-3577 to reserve your vacation adventure as soon as possible. Hope to see you this summer at your "Summer Place."
No Pets, No Smoking, Winter Rental, Waterfront/Water Access.


Contact Summer Place Resort Today!

---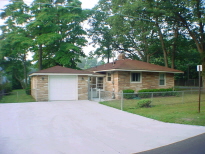 Holland Rental #8:
Lake Macatawa Cottage
Cottage Address: 481 South 168th Street
Owner: Harlen Bouman
Phone: 616-392-4256
All brick year around cottage adjacent to the Holland State Park Macatawa camping section.The cottage is 200 yards from Lake Macatawa with private beach and near both beaches at the state park.The cottage has 1 bath with tile shower, washer/dryer, 27"cable TV,DVD and VCR. The cottage sleeps 6 comfortably: 1 bedroom with queen bed; 1 bedroom with bunks and queen sofa sleeper in living room. Shaded fenced yard, large deck, picinic table,gas grill, camp fire pit,1 stall garage and large parking area. One mile from state boat launch.
$675/wk 5/26-6/23 $750/wk 6/23-8/25 $675/wk 8/25-9/18. $75 cleaning deposit. Cleaning deposit will be returnded if the cleaning lady says you left it the way you found it. 50% deposit required at booking. All rates are Saturday to Saturday. Check in 2:00PM check out 11:00 AM
No Pets, No Smoking, Waterfront/Water Access


---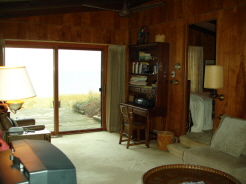 Holland Rental #9:
Skylight Cottage
Cottage Address: 5865 Lakeshore Dr, Holland, MI
Owner: Sara Simmons
Phone: 616-392-7777
Skylight Cottage will welcome your family with wide private beach and cozy charm! Three bedrooms include two double beds and twin bunks. Two baths include one with shower and one with tub. Enjoy a breezy meal on the airy deck or wander down 38 steps to the wide sandy beach where you can roast hotdogs or toast s'mores. Barbeque grill and indoor and outdoor patio furniture available for summer dining. Enjoy gorgeous sunsets from the deck, living room or dinning area. Roll out of bed to feast on the sight and sound of breakers or snuggle into bed early to watch the sun set.
Washer and dryer available with cable TV in case of rainy days and air conditioning for the really hot days. Gain easy accessibility from road to house and to dining at nearby Pigeon Lake Lodge. Cottage located just minutes from Holland with twice weekly farm market and fantastic Shopping District and from the Coast Guard City of Grand Haven with its musical fountain and Coast Guard Festival. Enjoy the Tulip Festival for a week for only $1950. One week minimum May through August $1,950 per week.
No Pets, No Smoking, Waterfront/Water Access


Contact Skylight Cottage Today!


---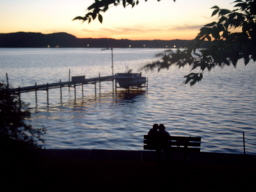 Holland Rental #10:
Charming Waterfront Cottage
Cottage Address: 1793 South Shore Dr., Holland, MI
Owner: Joel and Loralee Westmaas
Phone: 616-682-0838
Charming Waterfront Cottage on Lake Macatawa in Holland. Great lake views from a screened porch, a fifty-foot dock for your boat, room to sleep up to 8, and a fully furnished, comfortable living area, with all kitchen, bed and bath amenities including linens provided. Comes with AC, TV and VCR, gas grill, water toys, etc.
Close to Lake MI beaches, Saugatuck galleries, Holland shops. $1200/week, May through August, discounts for multiple weeks. 50% deposit upon reservation, plus security and balance required at move-in. Contact us for pictures or more details.
No Pets, No Smoking, Waterfront/Water Access


---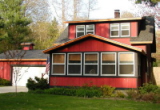 Holland Rental #11:
Lakeshore Drive Cottage
Cottage Address: 3340 Lakeshore Drive, Holland, MI
Owner: Rick Stockreef
Phone: 303-588-3124
Website: www.apex-1.net/lakeshore.htm
This fully furnished and updated 1920's cottage home is right across the street from Lake Michigan and is a relaxing summer getaway. We have sleeping room for 9, yet cozy enough for 2. Whether playing on the beach or just grilling on the back deck you'll find yourself enjoying new experiences every day!
From the cottage you can walk to the beach or walk (or bike) local trails. We're perfectly located under a canopy of large trees, across the street from Lake Michigan and right on the paved bike path between Holland and Grand Haven.
No Pets, No Smoking, Winter Rental, Waterfront/Water Access


---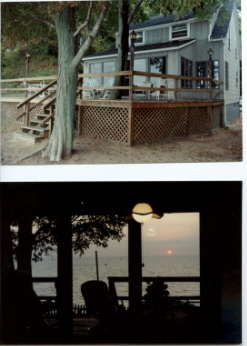 Holland Rental #12:
Eagle Lane Beach Cottage
Cottage Address: 2507 Eagle Lane, Holland, MI
Owner: Larry Speet
Phone: 616-399-6771
This cottage is located directly on lake Michigan (North side of Holland)with private beach. From our cottage/deck you have a spectacular panoramic view of Lake Michigan sunsets and a view of Holland's "Big Red" lighhouse. This two story cottage has 4 bedrooms, 4 double beds (must provide linens, sleeps 8, 1 bath w/shower,Kitchen includs utensils & dishes, microwave,cofeemaker toaster,blender.Has Fireplace, washer/dryer,cableTV,VCR,gasgrill July/August$1500 to $1900/wk (Sat/Sat)
No Pets, No Smoking, Winter Rental, Waterfront/Water Access




---