Enjoy Holland Michigan
Holland happens to be the beachtown that our family is most acquainted with. Excellent beaches attached to a beautiful inland lake (Lake Macatawa) and an award winning downtown make it more than eligible for best Lake Michigan Beachtown consideration.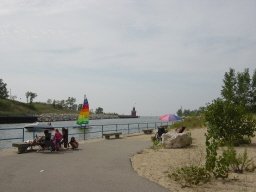 (Inlet to Lake Macatawa from Lake Michigan, with the Big Red Lighthouse in the distance)


But once again it is not just our family but the national press that wants to weigh in on this. Holland was just voted by Money Magazine as one of the top 5 places in the nation to retire. That is almost an impossible task for a city that can claim a Michigan winter to go along with its beautiful summers.


And what makes for a great town to retire in almost certainly makes for a great town to vacation in. Tons of green space, miles and miles of bike paths, a state park on Lake Michigan, Tunnel Park, and a downtown with shopping and restaurants for every taste. This all mixed in with a slightly dutch accent (culture) makes this a fun and very interesting combination of Midwest delights.
Beaches/Parks
So what do we like about Holland?.............Well we have to start with its beaches and parks. Our favorite is Tunnel Park on Lakeshore Drive.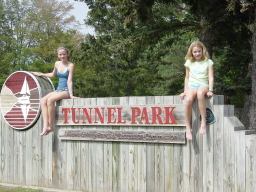 (Alyson and Anna at the entrance to their favorite Holland park)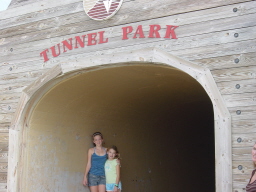 Tunnel Park seems a lot like any of your favorite inland parks until you walk through an actual tunnel that takes you out to Lake Michigan . . .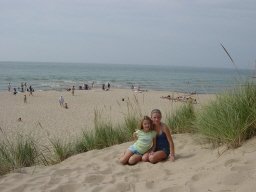 . . . and the beautiful beach!!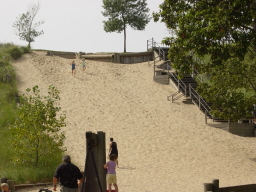 While your there make sure to spend time on the sand dunes. They face both Lake Michigan as well as the park and as you can see from this picture they are a blast to run down.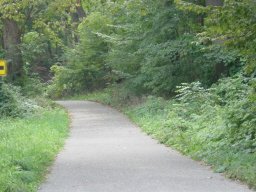 Directly in front of Tunnel Park are the famous Holland Bike Paths. They will take you miles in either direction. From Lakeshore Drive you can go all the way to Grand Haven on these Bike Paths. So check ahead with your rental, many cottages include bikes for their renters use.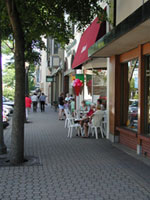 Shopping
After a day at the beaches along Lake Michigan or Lake Macatawa my family always looks forward to all vacationers other national pastimes . . . shopping, eating, and drinking. The shopping in Holland is not just your normal beachtown/beachwear shopping (although you will find that) but it ranges from very high end down to the quaint downtown drugstore. As I mentioned before it is an award winning downtown, that is tree lined and beautiful. Beachtown Shopping is excellent at all the towns but seems to take on a different feel in Holland. Maybe because it is away from the waterfront and does not have anything to compete with.
Check the Holland Shopping Spots!


Restaurants
Beaches then shopping? I am definitely thirsty and beginning to get hungry. Funny how Dads seems to find their way into the watering holes before the shopping is done but our family is no different in that respect. And the first place we stop in Holland (whether it is as a family or just Dad) is The Curragh.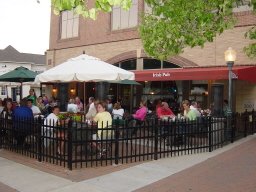 Like the picture says this is an Irish Pub that sits right in the heart of shopping on Eighth Street. It is not only the perfect place to eat, but the bar is as warm and inviting as the ones must be in Ireland. Except for maybe the plasma TV's that are always showing a sporting event (but if soccer is on, be ready to watch it and join in on the cheering). For dinner it is traditional Irish fare which we find to be excellent.
But if your tastes are not suited to Irish you can always cross the street (literally) and find the New Holland Brewing Co. An excellent microbrew pub with a little more traditional food.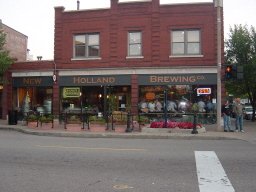 On a recent trip to Holland, our friends took us to Boatwerks Waterfront Restaurant at 216 VanRaalte Ave. We had heard this was a great place to eat and watch the sunset and I must say we were not disappointed. We sat outside since it was excellent weather and we wanted to get the best view of natures sunset show. So to make a long story short, we had great service, excellent food, a great sunset, and a perfect time. Boatwerks is not even on Lake Michigan (it is on Lake Macatawa which leads to the big lake) but it is a perfect resort area restaurant. I would recommend your family try it as well. There is even a park next to the restaurant that also sits on Lake Macatawa. This provided a playground to keep the kids busy, while the adults stretched out the evening (like we have a wont to do).
There are many excellent places along Eighth Street to eat (Eighth Street Grill being one). Find your favorite and don't hesitate to strike up a conversation, everyone is Midwest friendly and love to hear visitors take on their town. Or the person next to you may very well be visiting as well and you can share your favorite spots.
So after saying all of that about downtown and the shops and places to eat what if you still can't pull yourself away from the beach area. Well we have been there believe me, so just do what we do, head to the General Store. It is right outside of the State Park on Lake Michigan and next to Lake Macatawa.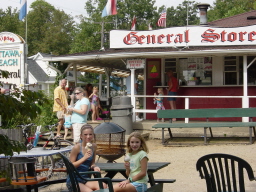 Here are Alyson and Anna eating what they consider dinner!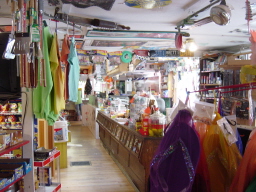 And who needs more shopping than this!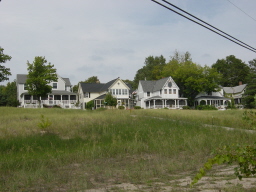 Lodging
Holland has everything and cottages for rent is not an exception. There are hundreds. Your main points of interest should be: The State Park, Tunnel Park, Lake Michigan, Lake Macatawa, and Downtown. Figure out what interests you most and start calling/e-mailing. The same holds true though that you get what you pay for. Figure out a budget because the range can be from the hundreds/week to many thousand/week. Being right on the beach is a great vacation but also expensive versus those across the street or down the way. You can't go wrong with most of them though and remember to ask if they provide the bikes!!!




Check out the Rental Available in Holland!