Michigan's Adventure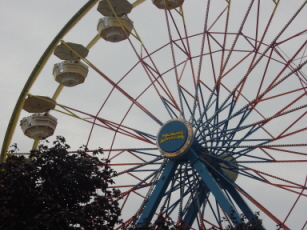 We rank Michigan's Adventure as a once a year, can't miss, we don't care what the excuse is, we will be there experience. All in all, this is just about a good a day trip as you can find from your South Haven, Saugatuck, Holland, or Grand Haven rental.
But again, don't just take our word for it listen to the rest of the:
*State (Michigan's Adventure is the largest amusement park in Michigan)
*Country (Michigan's Adventure is owned by Cedar Pointe one of the Country's premier managers of amusement parks.
*World (Michigan's Adventure is home of one of the world's top ten highest ranked wooden roller coasters)
As the good folks at Michigan's Adventure will tell you this park is "two, two, two parks in one".
At the entrance you are right in the middle of the amusement park. Our family heads straight for Zach Zoomer, a junior wooden roller coaster that the whole family can enjoy. Think of it as a primer for things to come.
Now that you have a few dips, hills and thrills behind you, get ready for one of the freakiest rides in the park. The Mad Mouse and believe me this mouse will make you screech.

It's not the biggest or the fastest but it is just plain "freaky". It twists and turns way above the parking lot, with a set up that makes you feel like you are heading towards the cars below.


Wow, now we are really in the mood for some fun. But here is where it gets interesting. You can head for The Wolverine a very jumpy wooden roller coaster that is quite exciting and a huge step up the thrill thermometer from Zach Zoomer, or you can go right for the big one "Shivering Timbers".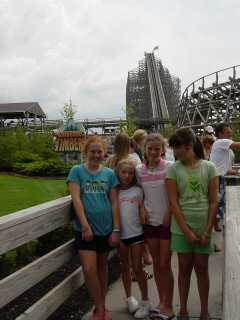 Alyson, Anna and Friends in line for "Shivering Timbers".

As mentioned above Shivering Timbers is consistently ranked as one of the top wooden roller coasters in the world. Ride it once if you dare . . . although our guess is you are going to dare many more times than once.
By this time the sun is high in the sky and it is getting warm. Time to head for the second park in this two park package, the water park!!


The wave pool at the entrance to the Michigan's Adventure water park

This is one of the best outdoor water parks this side of Orlando. There is a lazy river, tons of water slides, The Funnel of Fear, small kids pools, large wave pools, if it cools you off and provides thrills doing it, you will find it here.
Michigan's Adventure ranks highly as one of the "must do's" if you are in or near one of our Lake Michigan Beach Towns.
Rentals in South Haven are the farthest away, but you can still reach the park in a little over an hour, from Grand Haven rentals you are only a half hour or so. Saugatuck and Holland rentals are right in between.