North Beach in South Haven, Michigan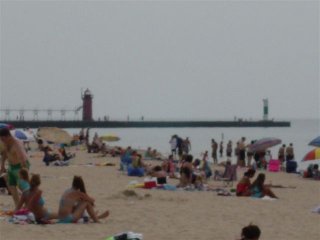 Try South Haven's North Beach when you really want to soak in what Lake Michigan Beach Towns beaches are like.
Once you get there you will realize this is it! It has everything it takes to be a great beach:
1. A great pier at the entrance to Black River which allows for great boat watching as well as fishing.
2. One of our famous Lake Michigan lighthouses
3. Lots and lots of beautiful sand
4. A concession stand for ice cream, soft drinks, hot dogs, etc.
5. Beach volleyball courts
6. Great swimming complete with varying sand bars
7. Crowded, for you people watchers
8. An easy walk to restaurants and pubs
9. And plenty of easy access parking (there is a charge)
Our family loves this beach. Our daughters like to be where the action is, Mom and Dad love how close it is to everything else in South Haven, and overall it is one of the most popular beaches on Lake Michigan.
Location: North Beach Drive, South Haven, MI Hours: Sunrise to 11:00 p.m. daily




---