Saugatuck Rentals
Below are our current listings for Saugatuck rentals. As you'll see, we feature a very nice mixture of full-size homes, cabins and resorts on or near the Lake Michigan shore, all in the Saugatuck, Michigan area. Enjoy!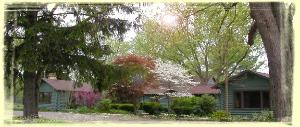 Saugatuck Rental #1:
The Hunter's Lodge
Address: 2790 Blue Star Highway, Saugatuck, Michigan 49408
Phone: (269) 857-5402
Web: www.thehunterslodge.com
The Hunter's Lodge offers a truly unique lodging experience and an exceptional value. The Arts-and-Crafts style log cabin structure will surround you with rustic charm, while our modern-day renovations create a pleasant and comfortable setting to complement your Saugatuck area get-away. The Lodge shares its rural setting with giant Silver Maple, White Pine and Elm trees; vibrant flower gardens; a solid old "barn"; and a lush, whimsical courtyard.
The Hunter's Lodge is in close proximity to all area attractions including Downtown Saugatuck, Downtown Douglas, and Lake Michigan beaches. Open all year.
Contact The Hunter's Lodge Today!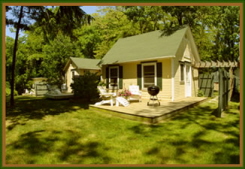 Saugatuck Rental #2:
Deer Creek Cottages
Address: 300 Ferry Street Douglas, MI 49406
Phone: (269) 857-5445
Web: www.deercreekcottages.com
Deer Creek Inn and Cottages is located on the dune side of the Saugatuck Harbor on the way to world famous Oval Beach. We are also very close to Douglas Beach so take your pick of great vantage points for a lazy picnic or sunset viewing.
We are across from the West basin of the Kalamazoo River, next to a golf course and within walking distance of the last operating US chain ferry. Take a ride on the chain ferry and go back in time while it delivers you to the town center where you will find delightful galleries, shops, parks, and restaraunts.
Our property provides a secluded and tranquil environment to enjoy the many treasures of the region. Relax and enjoy the views of our mature wooded lot, the wildlife habitat surrounding the creek or the golf course on the other side.
Many of our guests choose the vantage point from the hammock, next to the water fall pond, to enjoy their down time. Built by a great lakes shipping captain in the mid-1800's, Deer Creek is a classic representation of the Michigan Cottage Home. We offer three unique stand-alone cottages and a three-room Inn or guest house. Our property
The cottages sleep 2-4 people and include kitchenettes, satellite TV, VCR, DVD, private bath, decks, patio furniture, and BBQ grills. They were recently re-decorated with warm colors, charming accents and hardwood floors throughout.
The guesthouse is going through a renovation now to add fireplaces to each of the over-sized guest suites. Breakfast is served to the room each wekend so our guests can cocoon in your own little piece of heaven.
Call Deer Creek cottages today and ask about our rates, packages and availability. Winter rental available.
Contact Deer Creek Cottages Today!
©2006-2014 Lake Michigan Beach Towns